---
Your first app
During installation, I showed you how to create an empty application using the Angular CLI and ng new command. Within this tutorial we will use MDB Framework which will allow us to use Bootstrap for responsiveness as well as Material Design for an effortlessly great design.
1. Download a starter package
Navigate to the download page
Download the package by clicking on the button:
Unzip the package
Rename folder to my-app
Optionally you can move to a location where you will be able to easily navigate (tip: avoid spaces in your path)
I will be using /Users/Dawid/aworkspace/my-app
2. Install dependencies and run the application
Open the terminal and navigate to your project directory:

cd Users/Dawid/aworkspace/my-app

Install npm dependencies using the following command:

npm install

Note: you can use shorter form: npm i

Compile our application and run it:

ng serve -o

Your browser should open website localhost:4200 and display MDB Welcome screen:
—
3. Hello World
Open a code editor — I strongly suggest Visual Studio Code
Click File->Open and choose our project
Open file:

src/app/app.component.html

and replace the entire code inside the file with following:

<h1>Hello World from my first angular application.</h1>

Save the file
If you didn't stop the previous command (ng serve -o), you should notice in the terminal, that the CLI has automatically detected that file had changed, recompiled the code again, and refreshed a tab in a web browser. Now it should look like below: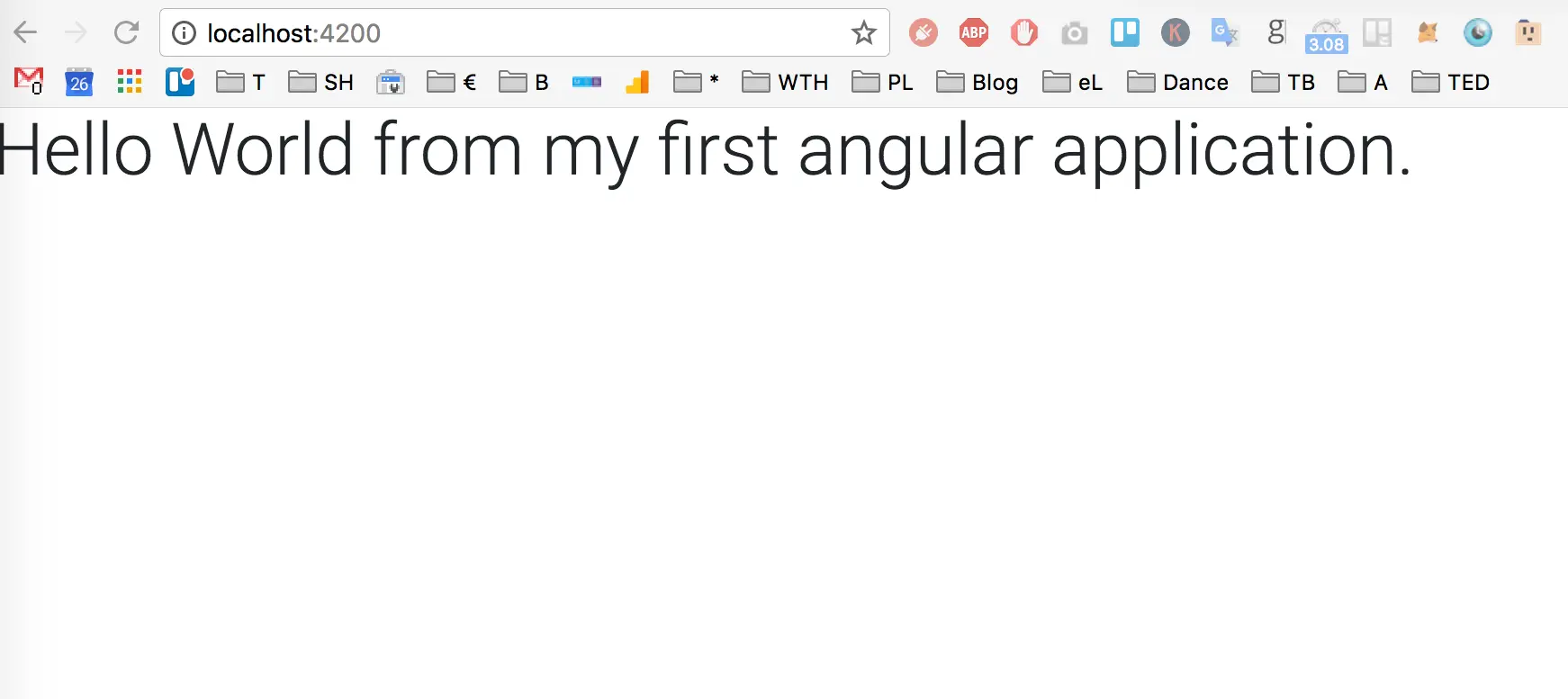 Good job. Your app is ready, let's have a closer look at the structure of our new application.
For more than 5 years Dawid worked as an IT Consultant specializing in SOA/EAI/ESB in the banking domain. He gained experience working in countries like Netherlands, Belgium, Poland and India developing enterprise-class systems for the most prestigious companies. Since co-founding mdbootstrap.com & brandflow.net in 2016 he has been using and teaching technologies such as Angular, TypeScript, PHP, AJAX, Mongo, SQL, Hadoop Stack, Virtualization, Automation and many others...